Visiting art galleries is one of the things we've missed most during the pandemic. We didn't realize how much a casual wander to check out art filled us up until it wasn't an option. With rules easing, we're making a list of local exhibits to check out and there are three happening at Parkdale's Black Artists' Networks in Dialogue (BAND) gallery that we're definitely checking out.
One does not need to go inside to take in Leyla Jeyte's if they saw me, i would live; the beautiful outdoor exhibit can be seen displayed on the fence, as part of Scotiabank CONTACT Photography Festival.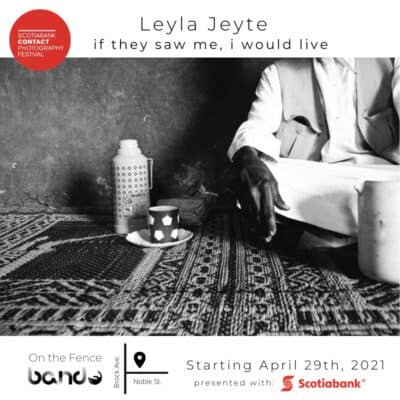 Jeyte's striking black and white photos show daily life in the city of Kisumu in Kenya. if they saw me, i would live is about the places that capture our imagination, and that inspire. It's also about making a bid for connection, in my case with strangers, and having it returned with kindness," writes the artist.
Once you've checked out Jeyte's exhibit on the outside of the venue, go inside to view You Grow Through What You Go Through, featuring vibrant abstract paintings by Toronto-based multidisciplinary artist and social justice activist Gloria C. Swain, curated by Shay Borden. "Swain's abstract work addresses Black mental health, notably how Black persons endure and grow from trauma along the lines of police violence, especially police violence against Black women, and other forms of anti-Black oppression," writes Borden. On until July 11.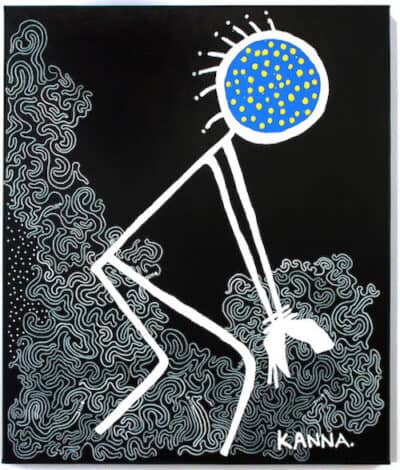 I Do Loose featuring work from Toronto-based Nigerian artist Kanna Anigbogu is the next must-see exhibit that opens July 22nd. "Anigbogu has a distinctive style of continuous line work and colour, combining movement, play, curiosity, and mystery, to create abstract pieces and stories of ambiance and feeling," says curator and BAND co-founder Karen Carter. "I Do Loose is a reclamation of his inner child. A deep sense of belonging underlies the story of each piece, reflecting his strong connection to his ancestral roots." We got a preview when Claudia Pensa Bowen, Administrator for BAND, took over our Instagram feed. The work is stunning, with each and would instantly transform a room. RSVP for Anigbogu's Artist Talk on Saturday, July 24th at 2pm.
BAND is both a gallery and culture centre that is dedicated to supporting, documenting and showcasing the artistic and cultural contributions of Black artists and cultural workers in Canada and internationally. BAND has reopened to the public for private viewing appointments from Thursday to Saturday 12-6 pm and Sunday from 1-5 pm, but you can also check out virtual programming or visit their online shop here.