The Scotiabank Photography Award is Canada's largest and most prestigious peer-nominated and peer-reviewed annual award that acknowledges outstanding contributions to contemporary art and photography. Last year, the award was presented to Montreal's Deanna Bowen, and this year's winner is Jin-me Yoon of Vancouver, B.C.
Each of the nominees on the longlist and finalists submitted a portfolio of work, with up to 50 photos, to be judged by a jury of peers. World-renowned Canadian photographer Edward Burtynsky is the chair of a panel of three expert jury members for the 2022 Scotiabank Photography Award. This year's jury includes: Sophie Hackett, Dr. Kenneth Montague, and Gaëlle Morel.
For her win, Yoon will receive a $50,000 prize, a solo Primary Exhibition during the 2023 Scotiabank CONTACT Photography Festival, and a book of her work will be published and distributed worldwide by renowned art book publisher, Steidl. It's a well-deserved win, and a very big deal.
Born in Korea and based in Vancouver, Yoon has been working and living on the unceded territories of the Coast Salish peoples since the early 1990s. Unpacking stereotypical assumptions and dominant discourses, Yoon's work has examined gender and sexuality, culture and ethnicity, citizenship and nationhood. Adopting a wider and wider lens over time, her practice has become a deep investigation into entangled local and global histories existing at specific sites within the context of transnationalism and environmentalism.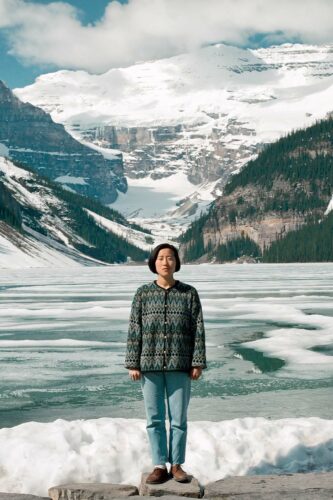 For decades, Yoon has used humour and juxtaposition to spark important conversations about race and belonging. Deeply inspired by her work, curator and art historian Ming Tiampo has written a book about the photographer; Jin-me Yoon: Life and Work will publish in the fall of 2022. Tiampo explains Yoon's notable 1991 series 'Souveniers of the Self' as, "A set of six postcards that featured her wearing a Nordic sweater and jeans posing in front of a museum vitrine, a tour bus, Lake Louise, and other tourist sites, this series plays on the discomfort that her racialized body inserts into the national narratives staged in these postcards. With witty, ironic text on the postcard backs, Yoon unravels those narratives, and interrogates the representational claims made by museums, the tourist industry and photography itself, prompting the viewer to ask themselves who is Canadian? Whose land is this?"
Yoon was prodding at issues concerning colonialism, nationalism, and the concepts of land ownership long before most Canadians even acknowledged them. Her work is striking, daring, and profound.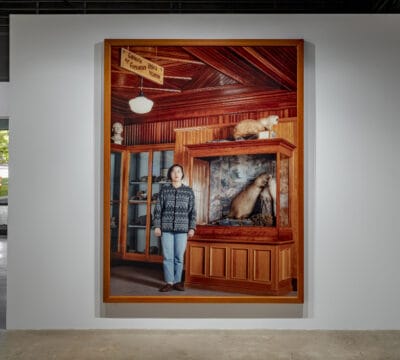 "I am thrilled to recognize Jin-me Yoon as the 2022 Scotiabank Photography Award winner. It is an immense pleasure to recognize such important art at a time when, collectively, our relationships to the land and our histories have never mattered more," says Edward Burtynsky, co-founder of the Scotiabank Photography Award and Chair of the jury. "Her solo exhibition during the 2023 Scotiabank CONTACT Photography Festival should not be missed."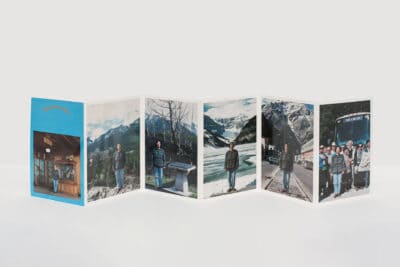 Presented in over 200 solo and group exhibitions, Jin-me Yoon has shown her work across North America, Asia, and Australia, and in select institutions worldwide. Her work is held in 17 public collections, including the National Gallery of Canada, Royal Ontario Museum, Vancouver Art Gallery and Seoul Museum of Art. A three-decade survey exhibition organized by the Musée d'art de Joliette has been touring since 2019; and in 2022, the Vancouver Art Gallery will mount a major solo exhibition of her recent work.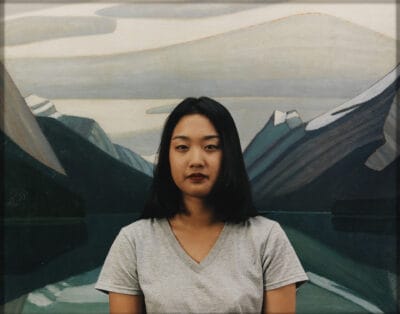 Also in 2022, authored by art historian Ming Tiampo, the Art Canada Institute will publish an online book, Jin-me Yoon: Life and Work. She lives and works in Vancouver, teaching at the School for the Contemporary Arts at Simon Fraser University. Jin-me Yoon is represented by the Catriona Jeffries Gallery. Head to her website to check out her powerful work.
The 2022 Scotiabank CONTACT Photography Festival is currently running and on until late June, and is a must-do for photography lovers. This ongoing program features more than 140 stunning photography exhibits at 130 venues indoors and outdoors across the city, as well as several virtual exhibits. Explore and be wowed.