Toronto-based actress Emily Stranges is starting off the new year with a recurring role in the hit CBC show Pretty Hard Cases, which returned for its third season this week. This season, detectives Samantha Wazowski and Kelly Duff must risk their lives to take down a dangerous gang, and a deadly new synthetic drug. Stranges will appear in four episodes throughout Season 3.
She also recently took on a more lighthearted role as Sarah, the supportive sister in the new Hallmark film The Dog Lover's Guide To Dating. Stranges has acted since she was a child, and has previously appeared in Murdoch Mysteries, The Hot Zone: Anthrax, and as the voice of the smart and sassy Athena Monde in the anime series Bakugan.
Off-screen, Stranges is a strong advocate for performer's rights, a long-time activist and member of ACTRA, the Canadian performer's union. We asked her some questions about her activism, filming Pretty Hard Cases and what's next in 2023.
Your acting career began at a very young age. Looking back, how would you describe the experience of being a child actor?
I was just a kid having a lot of fun. My parents were not part of the film/television industry, so we spent many years navigating it as outsiders. The most important aspect for me was to have fun without the weight of it feeling like an actual job. Acting classes and "work" really felt like an escape that I needed, and still does to this day.
Can you tell us about your activism work? How did you begin lobbying for performer's rights, and why is it important to you?
I began lobbying with ACTRA before the age of 18. It was a way to connect with my sisters and brothers of ACTRA in addition to raising awareness and protecting our rights as performers. We were able to connect with government officials and help them better understand the role of our union and our work as artists. I am passionate about keeping Canadian content Canadian, protecting child performers and more.
It's important to me because I want to continue making a living out of my acting career and be taken seriously in non-artist eyes just like a firefighter or a banker. Artists deserve respect and sometimes we need to make a little noise to be understood.
Right now, the activism continues and extends to the lockout of ACTRA performers by some advertising agencies. After nine months into the labour dispute, the Institute of Canadian Agencies (ICA), associated agencies and ACTRA will return to the bargaining table next week.
What was it like to film and work with everyone on Pretty Hard Cases?
I'm so grateful to be part of Pretty Hard Cases and to share the screen time with such an immensely talented cast. I've followed the show since day one on CBC and absolutely loved it as a viewer. It's as much fun to watch as it was to film. There was a lot of laughter in between takes. Everyone, including myself, has a deep love for each other and the story that is being told.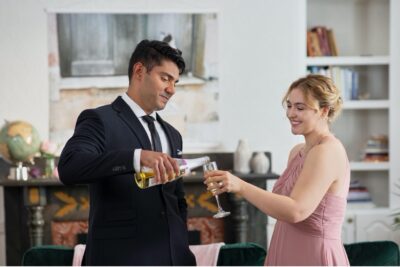 Tell us about filming The Dog Lover's Guide to Dating in Newfoundland. Did you miss Toronto? Feel compelled to move out east?
Newfoundland is the best. It's my mom's home province and where many of my family still live. I had a blast filming The Dog Lover's Guide to Dating, this project was so special to me because it allowed me to reconnect with family I had not seen in a long time, and it gave me a chance to visit many of the beautiful places that Newfoundland has to offer.
Newfoundland is a very peaceful place, and very quiet… sometimes too quiet. I'd turn my dishwasher on at night for noise – you can't take the city out of the girl! However, I relish the idea of returning to Newfoundland for filming or to visit family.
Which films or TV shows have resonated with you lately?
Charlotte Well's Aftersun hurt so good. I watched it in September during TIFF and I can't stop thinking about it. I've watched a few times since then and it feels like a close hug from a missing loved one.
You're starting off the new year strong with these two projects. What is the rest of 2023 looking like for you?
It's such a great way to start off the year. I'm really excited about how much my career grew in 2022. I've been working, training and creating consistently as a person and performer. Being fearless in the pursuit of your passions starts with your own mindset, and I think I really felt a positive shift in 2022.
I have three other projects that will be released a little later in 2023, and of course, I'm creating some of my own work and can't wait to talk about that in the near future.