The exhibits, pop-ups, films, talks, and other must-do events we want to get on your radar.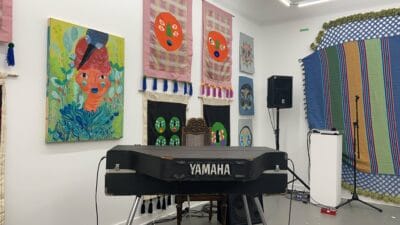 Lido Pimienta Solo Show at Patel Brown Gallery
We are huge fans of Lido Pimienta—her music, her art, and her humanity. Hanging by the Threads is her first solo art exhibit, running now until December 18th at Patel Brown's east gallery (184 Munro Street), and well worth a visit. The gallery is filled with the colours and symbolic faces that remind Lido of her upbringing, and mark reflections of her personal memories inspired by childhood. Check it out, and also watch this stunning Tiny Desk Concert she did for NPR, a video that always fills us with hope and inspiration… it's no wonder she made Barack Obama's favourite music list of 2020. She's a brilliant artist with a distinct style.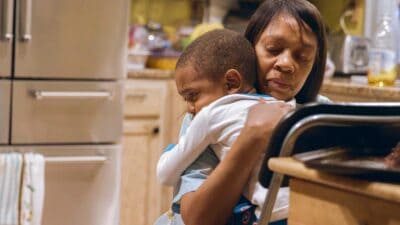 Regent Park Film Festival
This year's lineup of programming at Regent Park Film Festival is phenomenal. If you haven't seen Tracey Deer's incredible award-winning Beans, this is your chance. Other highlights include We Are Lady Parts, Nida Manzoor's anarchic and irreverent music comedy show about a Muslim female punk band, and the Hot Docs hit One of Ours which shares a poetic observational look at reconciliation and belonging through the eyes of a young Haitian-born Indigenous adoptee in Canada. One film we're definitely checking out is Loira Limbal's Through The Night, about 24-hour daycare centres in America, that shows the personal cost of our modern economy through the stories of two working mothers and a child care provider. See full RPFF schedule here. Programming is free, with option to donate.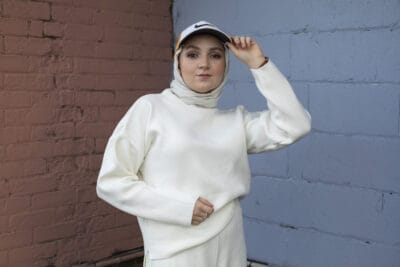 Muslims In Toronto – Mahtab Hussain in conversation with Chris Boot
On November 30th at 5pm, Stephen Bulger Gallery and CONTACT Photography Festival will host a virtual conversation with British artist Mahtab Hussain and editor Chris Boot. Hussain's work explores Muslim experience and identities through portrait photographs made in the streets over the last 15 years in Britain, alongside other public photography projects in the UK and abroad. He has expanded his portraits of Muslims in the series "Muslims in Toronto", which will be on display in the Stephen Bulger Reading Room Gallery. Three subjects from the Toronto series will join Hussain to speak to their involvement in the project. We love the photos and this is sure to be a fascinating conversation. More info here.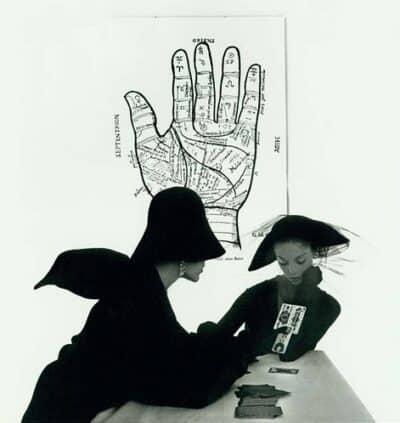 Irving Penn Exhibit at Corkin Gallery
Go back in time and explore the groundbreaking photography of Irving Penn at Corkin Gallery (7 Tank House Lane). On now until Jan 29th, the exhibit features over 40 photographs spanning six decades, and focuses on three distinct bodies of work — Small Trades, 1960s San Francisco, and Fashion, exploring the intersecting roles of style and identity. "His work dismantled the formerly stark divides between high society and the working class. By challenging the rules and redefining who should be photographed, Penn paved the way for generations of artists whose work continues to break with traditional archetypes of status, luxury, and beauty," says gallerist Jane Corkin. We know this exhibit is going to feed us with all sorts of ideas. Details here.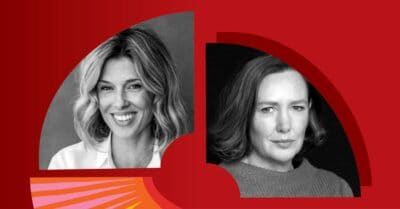 TIFA Presents Ashley Audrain and Paula Hawkins in Conversation
Did you devour Ashley Audrain's The Push this past year? Has it haunted you since? Yeah, us too. We can't wait to tune in to this Toronto Festival of Authors conversation between Audrain and Paula Hawkins on December 2. The New York Times best-selling authors will discuss their latest novels, and how long-suppressed secrets can take on a life of their own. Sounds thrilling… and a little bit chilling. We're in. Register for the Dec 2nd virtual event here.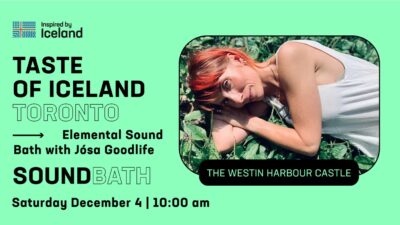 Taste of Iceland
Discover and savour the tastes, music, literature, and beauty of Iceland at Taste of Iceland Toronto. There are several events taking place between Dec 2-5, but the one that has us most intrigued is the Elemental Sound Bath happening at The Westin Harbour Castle (1 Harbour Square). Icelandic Energy Healer Jósa Goodlife invites guests for an hour-long meditation session and elemental journey. Yoga mats and towels will be provided for guests to use during the sound bath, and to take home, courtesy of Iceland's world-renowned geothermal spa, the Blue Lagoon. You have to pre-register for this one! Move quickly.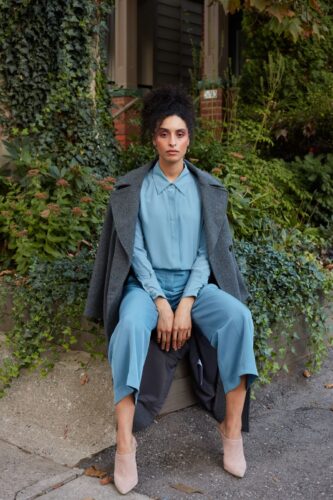 Numi Pop-Up Boutique in Yorkville
Canadian fashion brand Numi has opened its first in-person retail space in Yorkville (55 Avenue Road). The pop-up shop will be running until Jan 16th and features Numi's famous sweatproof undershirts, stain repellent silks, and other best-sellers. "Shoppers can expect to see the same thoughtful design, forward-thinking materials, and commitment to sustainability that we bring to our products through the in-store experience," says Founder Michelle Shemlit. Kelly Ripa and Jessi Cruickshank are both big fans. We'll definitely pop by for a browse.