Carolyn Sandler is the owner of Makara Tattoo Shop, a 300 square foot space that lives in the heart of Parkdale at Queen & Lansdowne. She opened the small shop in 2018, "It was a lifelong dream for myself and my boyfriend. We wanted to create something that was ours."
When COVID-19 hit Toronto, Sandler knew it wasn't going to be good for business. "Tattooing is all about human contact," she says. But before the government ordered non-essential businesses to close, she did her best to persevere, taking cautionary measures, like having only one person in the shop at a time. Now, with no real timeline to follow, the shop is closed indefinitely, which means zero income and mounting rent costs.
Like most Canadians, since the onset of the pandemic, Sandler has watched Prime Minister Trudeau's daily updates, trying to figure out what kind of relief Makara Tattoo Shop could receive. "Every time I listened to the PM, I felt like I wasn't be seen—my business wasn't put forward," she says.
The CERB payout helps Sandler with basics, like food on the table and household bills, but it's not going to save her business, which continues to bleed out money each day.
While there are options for small business loans, a $40,000 loan for Sandler would put her deeper in the hole. "I still have debt from when I opened up. To pile more debt on top of this makes things more complicated. Any type of loan would put us under, as paying it back would be near impossible."
Desperate to save her business, Sandler sent her MPP, Bhutila Karpoche, an email, outlining her concerns, and sharing that she was one of many local businesses that feared an impending death, if the government doesn't step in to help. "Her assistant got back to me in a few hours and asked 'Can you do a phone call tomorrow?' I was freaking out! I'm such a huge fan of hers," Sandler exclaims.
The two women decided that the best course of action was to write an open letter to all three levels of government, and get as many Toronto female-owned micro businesses to sign it. In doing so, it would become abundantly clear that A) not all small businesses look the same, and B) that Toronto is going to suffer an enormous loss—of character, of vitality—if these vibrant micro businesses go under.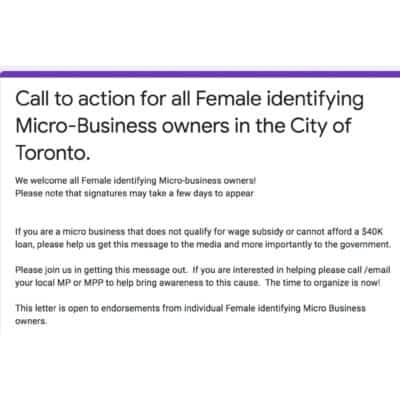 "The Canadian Government has offered options for small and medium sized businesses in hopes of lessening the financial burden. Unfortunately, small business, especially in Ontario is a large umbrella. There are many "micro-businesses" that do not qualify for wage subsidy and are not in a position to take on a financial burden of a loan," reads an excerpt from the open letter, explaining the dire situation.
The Shameful Tiki, Koffee Kween, Common People, Northern Contemporary Gallery, Gloryhole Doughnuts, Fringe Salon: in just a few days, the petition has gained traction, gathering a slew of signatures from women-owned businesses in Parkdale and beyond. But they need more. They need more to prove that there is a huge contingency of boutiques, salons, private practices, wellness clinics etc. that are going to cease to exist if they don't get a lifeline. "We are the fabric of our neighbourhoods. Storefronts, cafes and shops make up a beautifully diverse mosaic of where we live," says Sandler. "Parkdale is rich with small businesses that make our community unique and colourful."
Sandler has been floored by the support in her community. "It's been amazing to see everyone gather, and be collective force," she says."I don't love the word 'empowering', but that's what it feels like."
If you are a female-owned business in Toronto that is sharing the same fear a Sandler, with a story similar to Makara Tattoo Shop, please add your name to the letter.