Toronto artist Briony Douglas recently opened her art exhibit, A Show With No Theme at 499 Queen West. Known for her playful oversized sculptures and clever interpretations, friends and followers were keen to explore the latest show, which boasts a deliberate lack of meaning.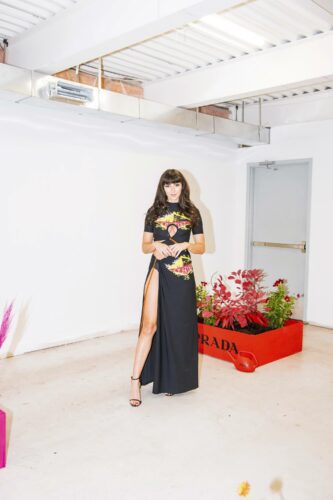 What do a 20-foot teddy bear, a candy designer purse collection, an underground flower garden, a life-sized car and an iconic painting recreated in pasta all have in common? Absolutely nothing! That's the point.
With zero constraints, the show is about celebrating freedom of a life with no rules. "Through this exhibit, I wanted to explore the joy of the unexpected and how authenticity is born when we play outside the lines," said Briony. "I hope this show inspires my fellow creatives to see beyond what's ingrained and to write their own rules when it comes to their work. But more than anything, I hope it makes people happy."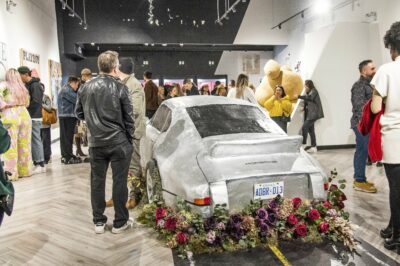 Briony's prolific imagination, sheer talent, and massive following have made her a favourite creator for brands to partner with. Knix, Porsche, Apple, Nespresso, KFC, and Holt Renfrew are just a few of the companies she's collaborated with, bringing a sense of fun to corporate culture. Truly, the range of clients in her portfolio of work is impressive.
With two years of very few in-person events, we don't need an excuse to gather. Briony's art is pleasurable, ironic, cheeky and colourful; to simply move around the space and enjoy the art with other interested humans is more than enough.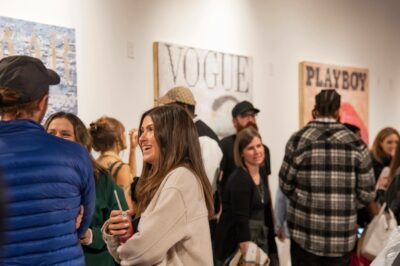 "I am beyond excited to be able to share all new works of art with you. The show will be free of charge because after a couple of years of not being able to stand in front of real life art, I wanted to create that experience again for the community," Briony shared with fans on her Instagram.
The exhibit is on until Oct 30th and sponsored by Knix, Crowd Machine, Shine Talent Group, and The Birds Papaya. Photographer Candace Cosentino hit the opening to snap pics of the art, the scene, and the shiny happy people who were all excited to be there to take it all in.