Screenings, interviews, parties, rinse and repeat! We can barely remember to breathe and stay hydrated, so hitting up all the gifting lounges (in ONE DAY, no less) seemed near impossible. Luckily, we mobilized the SDTC crew and divided and conquered the celeb swag scene like our lives depended on it.
Here are our fave discoveries from EGPR's Essentials Lounge, rock-it's Tastemakers Lounge, NKPR's IT House & Glo Communications' Bask-It-Style! 
Jen, Essentials Lounge
Thing you needed at that very moment: I hadn't washed my hair in several days (#sorrynotsorry), so I was most grateful when upon entering the Essentials Lounge, I was quickly greeted with a KMS California stylist who, with a quick spritz of KMS Hair Play Dry Wax, transformed me from greasy rat to red-carpet ready.
Biggest score: I walked out with a gorgeous Woman's Warrior Research down jacket from Colmar. HUGE SCORE.
What you predict stars will want the most: Saucony sneakers. LA peeps are all about athleisure, and the Jazz Originals are cuuuute.
One thing you learned: A Smashbox makeup artist explained that I have no defined upper lip. Finally, after twenty years, I understand the root of my lipstick issues.
What you put in your mouth: Chugged a VitaminWater in less than a minute. Thirsty times, people.
Overall impression: Esther has been killing it for the last seven years with her Essentials Lounge. She knows what TIFFers need when they're running on empty, high on caffeine, low on hydration and working a red carpet at 2am.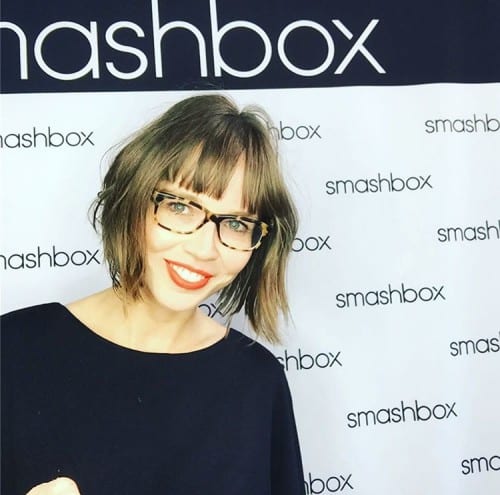 Olga, rock-it's Tastemakers Lounge
Thing you needed at that very moment: Having met her before, I was stoked to see Dr. Liza of [the fix] chiropractic + massage at the lounge again. Half woman, half goddess – she managed to unpretzel the kinks in my upper back in, literally, five minutes. #blessed
Biggest score: SOREL Major Maverick combat boots FTW! These kick ass so hard, and I can't wait to wear them all through fall.
What you predict stars will want the most: EVERYTHING! But if I had to choose, McGregor socks. I bet those guys have just as hard a time keeping their socks paired up as us civilians, so receiving new pairs is always a nice treat. Celebrities, they're just like us?
One thing you learned: How to elevate my brow game, just like the shiny, dewy celebs! Using Tweezerman's EyeEnhance Highlighter Pencil (which comes in a travel-size brow kit), I learned to line the underside of my brows (did you know that was a thing? This guy did not), which accentuates the arch and lifts the brow.
What you put in your mouth: Having skipped lunch, I straight up GUZZLED a cup of Krispy Kreme coffee and wolfed down a couple donuts, then rode the sugar wave all the way until I crashed in my Uber. Totally worth it.
Overall impression: Tastemakers Lounge has become one of of my fave TIFF things over the years. From collecting rad swag to catching up with Debra's team (hiiiiiii rock-it gang!), it's a lovely way to get in the festival spirit.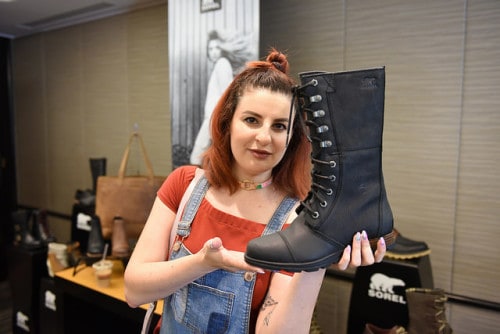 Liza, NKPR's IT House
Thing you needed at that very moment: beGlammed service. With the Toronto heat and humidity, my face and hair were not TIFF ready, but the team at beGlammed saved the day! It's literally an Uber for makeovers – so brilliant! Using the app, you choose your hair and makeup service, plug in your address, and voila! A makeover fairy god mother appears. It's just like Cinderella, except you don't expire at midnight and hopefully don't lose a shoe.
Biggest score: My new Lug luggage, because you can never have enough bags, ever (despite what your significant other says). Cute, light and portable, it's my new travel obsession. Did I mention you can choose different sizes and colours for the bags within the bag? Travelling game changer.
What you predict stars will want the most: 100% SculpSure. This is secret of the stars…some high-tech laser wizardry that sculpts your body and gets rid of that "last five pounds" FOREVER. I didn't get a chance to try this cool machine, but when I visit Dr. Mulholland at Spamedica for the treatment, I will return back with a full review.
One thing you learned: Natasha Koifman is #goals! On top of being a female boss to a successful PR company, she's on the Board of Directors for Artists for Peace and Justice (APJ), a non-profit organization. AND she just partnered up with them to release a fragrance.
What you put in your mouth: Iced David's Tea (so refreshing every time).
Overall impression: Oh, to be a star for the day *sigh*! I left the IT lounge rejuvenated, glammed up and ready to conquer the day. IT was the perfect way to kick off TIFF!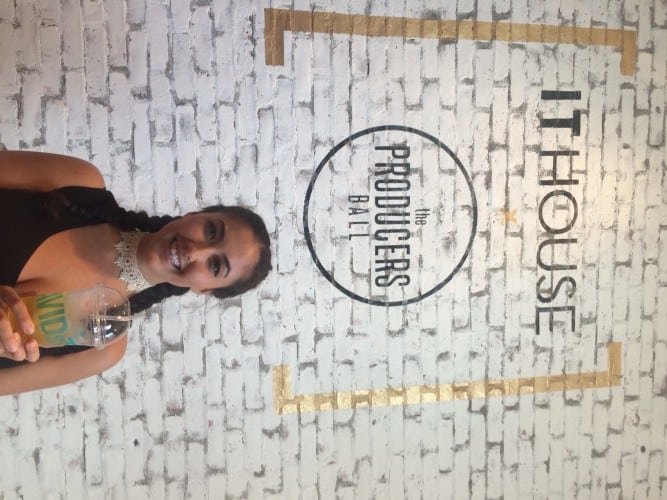 Kennedy, Glo Communications' Bask-It-Style
Thing you needed at that very moment: I left the house that day without a drop of makeup on my face, so the Mary Kay gel lipstick was a huge treat. Due to the formula, it was easy to swipe it and get on with the rest of my day.
Biggest score: The Province Apothecary brow serum – this brand will be huge in a year or two and this is a product that fills a gap in my skincare routine.
What you predict stars will want the most: Stars are always flying to different locations, right? The Meradesso skincare pack comes in a resealable sample size and uses natural ingredients to soothe skin.
One thing you learned: What's the level of personal privacy and autonomy that I would have to sacrifice in order to reach the level of fame that involves getting all of these bomb free products?
What you put in your mouth: A Green and Black organics Madagascar vanilla chocolate bar – chomped down for breakfast the day after.
Overall impression: People in the PR industry are some of the hardest workers around. Thank you for forgoing sleep during TIFF!