If supporting independent labels and Canadian design is important to you, you should hit up Victoire's Rendez-Vous pop-up shop, happening in Toronto from May 27-29 in the Junction Triangle (1586 Dupont).
Explore spring/summer collections from Montreal's Valerie Dumaine, Eve Gravel, Eliza Faulkner, and Amanda Moss, or Toronto's Birds of North America.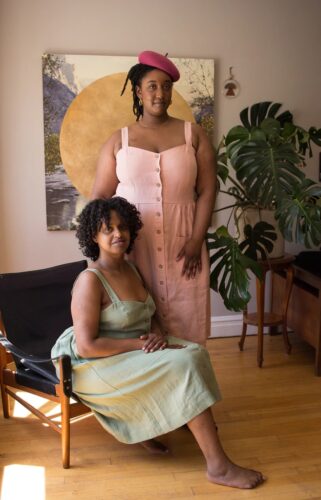 If you're in search of sun dresses, shorts, swimsuits, or hats made for the brightest July days, the Victoire pop-up will surely delight with racks upon racks of playful prints and practical pieces for the season ahead.
Be sure to also browse the jewelry on display, with shiny pretty things by Victoria's Steph Shannon Little Gold Jewelry, or beautiful handwoven beadwork by Miiken,
Founded in 2006 by Katie Frappier and Regine Paquette, Victoire continues to be a leader in representing the very best of independent Canadian fashion while championing sustainable and ethical business practices. For many years, we enjoyed popping into their boutique on Ossington, but in 2020, the Ottawa friends and co-founders made the decision to close their Toronto location, focusing their efforts on their Ottawa boutique and online shop. We always love when they visit Toronto, bringing trunk loads of gorgeous clothes with them.
Cycle over to the Junction Triangle this weekend and find something perfect for summer picnics and breezy blissful days at the beach.