As the weather gets warmer and the sun gets stronger, thoughts inevitably turn to summer adventures. And the best kind of summer roadtrip? Festival express. Near and far, your favourite bands are playing a festival somewhere. Here, we round up the best of the fests, from as close as the Toronto Island to as far flung as gorges outside Seattle. Whether you're dancing in the dark on a farm in Tennessee, shaking with Karen O. in the Washington mountains, walking on the wild side with Lou Reed or running through the streets of Chicago to catch Depeche Mode's set, there's definitely something for everyone to get excited about this summer. And most of the fests have carbon-neutral or offsetting plans, and donate portions of ticket sales to various charities and green projects in the surrounding area. So, who's driving?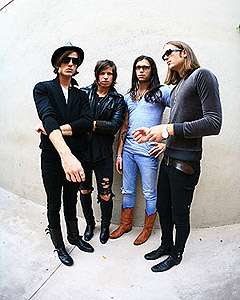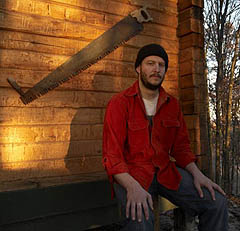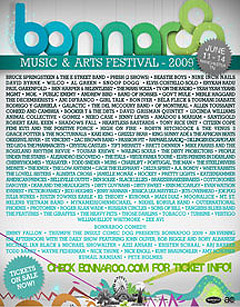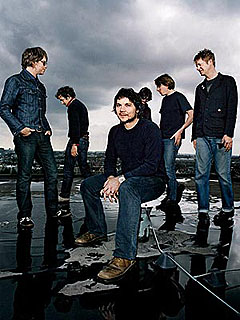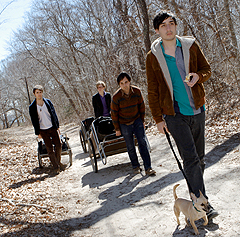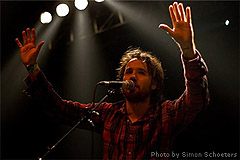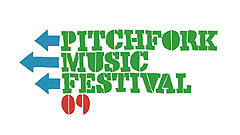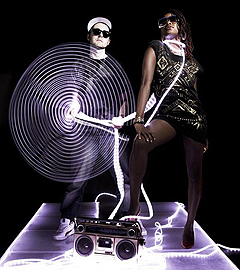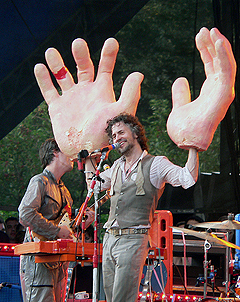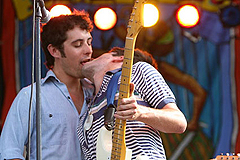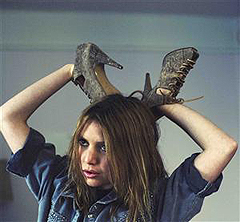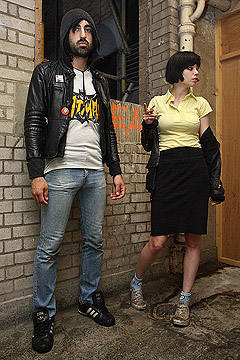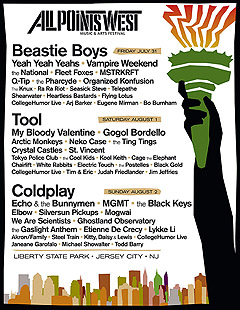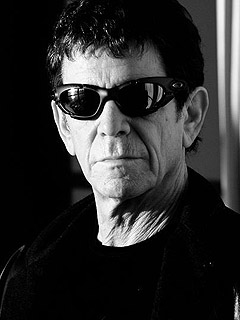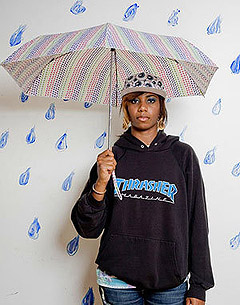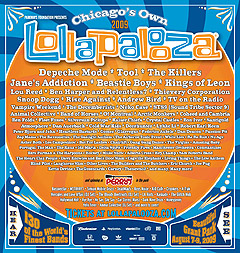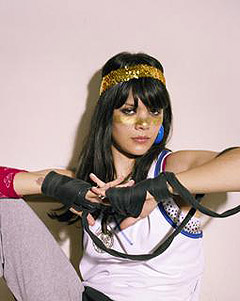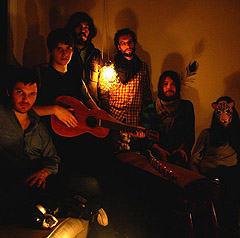 SASQUATCH
When: May 23-25
Where: The Gorge, East of Seattle. An amphitheatre nestled in a completely mind-blowing canyon.
Fly in to Seattle a few days before, and stay in Capitol Hill, slurping latte art, checking out independent galleries, and going to indie shows at houses with names like The Fishbowl. Rent a car with 3 friends to drive east to camp at the festival.
You'll go because of: Kings of Leon, Yeah Yeah Yeahs, The Decemberists, Jane's Addiction, Nine Inch Nails, TV On The Radio, Crystal Castles, Girl Talk
You'll leave obsessed with: Bon Iver, M. Ward, M83, Fleet Foxes, santigold, School of Seven Bells, Blitzen Trapper
Vibe: West Coast tree huggers with friendly beards converge with scantily clad city kids and together sway against a beautiful backdrop. Pie-eating contests are held prior to the fest to win free passes.
Price: $66.50 per day, and prices go up the week of the festival
BONNAROO
When: June 11-14
Where: A 700-acre farm in Manchester, Tennessee, 60 Southeast of Nashville
Roadtrip down with an RV full of the most fun people you know. Stock up on cheap American beer and cigarettes, and make sure someone going with you plays the guitar.
You'll go because of: Bruce Springsteen & The E Street Band, The Beastie Boys, Nine Inch Nails, Wilco, Snoop Dogg, Yeah Yeah Yeahs, MGMT, Girl Talk, Crystal Castles, People Under The Stairs, Neko Case, Jenny Lewis, Animal Collective
You'll leave obsessed with: Bon Iver, Rodrigo y Gabriela, Andrew Bird, Band of Horses, santigold, Okkervil River, Grizzly Bear
Vibe: Hippie time! The muddy camp-ground vibe and surprise sets at 4 am guarantee a much more chill weekend then most festivals. Renowned as the biggest and best of the old festivals, Bonnaroo is as much an experience as a concert. Cinemas, cafes, and comedy shows seal the deal.
Price: $249.50, although limited numbers of less-expensive tickets are available.
OLYMPIC ISLAND CONCERT
When: July 11
Where: Toronto Island
Pack a picnic, sneak in some wine, and spend a day in the sun swaying to awesome tunes. Then, make sure to look up at the city skyline while the sun sets and Broken Social Scene sings you love songs.
You'll go because of: Broken Social Scene, Explosions in the Sky
You'll leave obsessed with: Thunderheist, Apostle of Hustle
Vibe: An awesome picnic that feels like the coolest kids in the city took the ferry across the lake for a day
Price: $49.50 plus ferry and service charges
PITCHFORK MUSIC FESTIVAL
When: July 17-19
Where: Union Park, Chicago
Chicago is an awesome city to spend a weekend in. Leave at least one extra day for city walks, museums, and going to the lakefront.
You'll go because of: Yo La Tengo, The Flaming Lips
You'll leave obsessed with: The National, Beirut, Grizzly Bear, M83, Blitzen Trapper, The Black Lips, Pharaohe Monch, Japandroids
Vibe: We love Pitchfork for their unabashed music nerdiness. Expect cute boys in tight pants who can talk about obscure remixes even when they're so drunk they can't stand.
Price: $35/day
HILLSIDE
When: July 24-26
Where: Guelph Lake Island
Close enough for comfort but far enough to feel like an adventure. Hillside has a great family vibe, full of locals who have been going forever.
You'll go because of: Final Fantasy
You'll leave obsessed with: Tokyo Police Club
Vibe: A diverse line-up of artists guarantees an awesome, eclectic crowd
Price: Friday evening, $50. Saturday, $60
OSHEAGA
When: Aug 1-2
Where: Montreal
Warming up with pre-fest events (seperate tickets required) in the city for the first two days, and then migrating to the parc for the last two, this is a great excuse to go to Montreal for a week.
You'll go because of: Coldplay, Beastie Boys, Arctic Monkeys, Rufus Wainwright, Girl Talk, The Decemberists, Crystal Castles
You'll leave obsessed with: Lykke Li, The Ting Tings, Josh Ritter
Vibe: City celebration! Osheaga tickets get you free transportation on the weekend!
Price: $125 weekend pass
ALL POINTS WEST
When: July 31-Aug 2
Where: Liberty State Park, Jersey City, New Jersey
Goldenvoice, the people who bring you Coachella, created this East Coast incarnation last year, where performances take place against the Manhattan skyline.
You'll go because of: Beastie Boys, Yeah Yeah Yeahs, Tool, Coldplay, My Bloody Valentine, Echo and the Bunnymen, MGMT, Q-Tip, Crystal Castles
You'll leave obsessed with: Vampire Weekend, The National, Fleet Foxes, MSTRKRFT, The Cool Kids, Akron/Family, Lykke Li
Vibe: Goldenvoice does this stuff better than anybody, so expect a tight-run ship with a distinct feeling of being there.
Price: 3 day pass for $199.00
LOLLAPALOOZA
When: Aug 7-9
Where: Grant Park, Chicago
Perry Farrell's lovechild takes place in gorgeous Grant Park, with the Chicago skyline dominating the view. You can leave the festival any time to explore the city, buy cheap food, or re-fill your Nalgene. We had an awesome time last year and we're pretty excited to do it again.
You'll go because of: Depeche Mode, Tool, The Killers, Jane's Addiction, Beastie Boys, Kings of Leon, Snoop Dogg, TV on the Radio, Animal Collective, The Decemberists, Crystal Castles…LOU REED!
You'll leave obsessed with: Andrew Bird, Vampire Weekend, Band of Horses, Fleet Foxes, Bon Iver, santigold, Deerhunter, Lykke Li, The Raveonettes, White Lies, Los Campesinos!, Bat for Lashes, Chairlift, The Virgins
The Vibe: Big music in the big city. The crowd is huge, diverse, and enthusiastic, and the festival's commitment to no service charges, recycling, and other good stuff give the weekend it's unique feel.
Tickets: Advanced 3-day passes are $190
LAST CHANCE, LAST CHANCE, LAST CHANCE – to win $1500 in amazing eco-friendly goods. Contest closes at 4:30PM…and wait 'till you see what we've got coming your way next. Sooo exciting. To win, send an e-mail with the subject line SHOW YOUR GREEN to contests@shedoesthecity.com
THE GOODS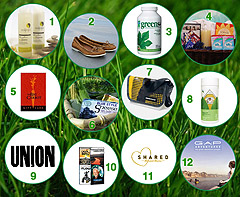 1. Saijojo Hair Products-Nourishing natural hair-repair. Daily Goodness Shampoo & Conditioner, Styling Spray, Styling Foam, Smoothing Balm, and Styling Glaze
2. Timberland Scrumptious leather Benin Ballerina Shoes, from the Earthkeepers Collection
3. greens+ Go green from the inside out with a variety of greens+ supplements, for everything from maximizing energy to achieving glowing skin
4. o.b. Get comfy with o.b. The makers of the most discreet tampon offer a Get Comfy prizepack, complete with robe, slippers, a scented candle, a movie, chocolate, and some o.b. tampons.
5. The Big Carrot A $100 gift certificate to Toronto's premier natural food market.
6. Sheese This dairy-free alternative is delicious crumbled on a fresh salad. An assortment of this delicious stuff will be delivered to you from the peaks of British Columbia-yum.
7. Curbside Cycle A stylish Swiss messenger bag from Freitag will make biking around town with everything you need a breeze.
8. Shaklee Get Clean Free your home of toxins but keep it clean as a whistle with a Shaklee Healthy Home prize pack
9. Union Being green tastes so good. A complimentary dinner for two at this much-anticipated slow-food charcuterie restaurant.
10. The Nature of Things SUZUKI! The godfather of green presents 3 mind-blowing environmental documentaries and Volume 1-Visions of the Future, a collection of NOT episodes
11. Shared Changing the world, one t-shirt at a time. These socially responsible cotton craftsmen have found a home at King & Bathurst-and are offering you $150 worth of socially-responsible, figure flattering tees.
12. G.A.P Adventures What could be better than $250 towards an adventure of your choosing-from the Serengeti to Incan ruins, the world is yours for the discovering.
Make sure you enter to win this incredible package-to keep you green, all summer long! GO GREEN, GO NOW!