If you are looking for a fancy sex toy that will satisfy both you and your partner, may I suggest the slick and trendy We-Vibe vibrator for couples? At first glance, I was unsure of how this little toy would work and fit, but after reviewing the helpful guide on their website it, well, slipped in easily. Zzzzzzz….are you ready for some fun?
With a portable charger, the We-Vibe can subtly be powered in your bedside socket and unassumingly fits alongside your iPhone, hairdryer or whatever. Nosey roommates will never guess what is in the discrete white case. Once charged, a wireless remote control is used to play with different speeds; it's up to you who gets to operate. Heck, take turns! Go C-R-A-Z-Y! Weeeeeeee!
Unlike other vibrators, this one actually fits inside you like a glove, one arm stimulates the G-spot while the other buzzes your clit. It came as a surprise to us (my man and I) that the We-Vibe is actually intended to use during intercourse. What? How? It's easier than it may sound or appear.
Here's how we did it:
– My lover carefully slid it inside me and inserted himself under the G-spot arm. (Yep, they both fit – cock and vibe. And damn it feels gooood.)
– After a few firm thrusts, he increased the speed from a slow hum to a more upbeat tempo. Salsa!
– My clit tingled as the WeVibe stimulated it from the outside and both of us enjoyed the extra vibrations felt internally on me and externally on his hard shaft. Mmmm. (Starting to turn myself on again…sorry)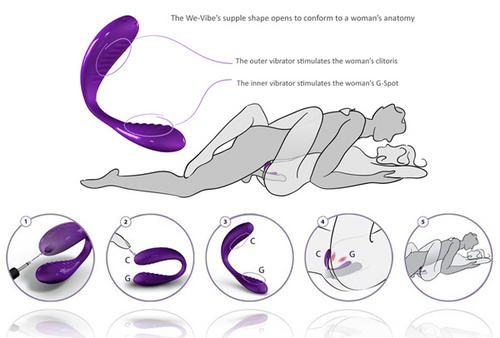 We found that the We-Vibe worked best in the missionary position and the noise wasn't intrusive at all. In fact, the buzzzz was barely audible when mixed with our groans of passion. The only warning I have is that all of a sudden, my man decided to up the ante and cue the toy to full velocity. YOWSERS!! Suddenly, it felt like I was on an out of control massage chair during airplane turbulence, with a cock deep inside of me no less. Then a little mid-fuck chaos ensued when we misplaced the remote.
"OMG, turn it down!!" I laughed.
"I can't…I don't….hold on." He mumbled while furiously trying to turn it down.
"This is crazy. Make it stop!" I continued to laugh.
"Shit…I dropped it." Madly digging around trying to locate remote.
"Where did it go??" I cried.
Finally, after some frantic fumbling we located the remote in sheets and got back to our preferred rhythm. Phew!
Easy orgasmic pleasure aside, the best thing about the WeVibe is that it really opens dialogue when it comes to sex. You have to communicate and work together to find the right fit and speed. It's an an intimate little adventure that will no doubt bring you closer to your partner. Laughing during intercourse is always fun too.
Zzzzzzzzzzz..mmmmmm…buzzzzzzz…..OH YES, OHHHHH Y-E-SSS we ahhhhhhhhh-ohhhhhhhhhhhh-ahhhhhhhhhhhh-fuuuuuuuuuuuuuuuuuckkkkkkkk…..love the We-Vibe.
We-Vibe comes in three pretty colours; purple, ruby and teal. It retails at $159.99 and can be purchased online or at Queen West's Come As You Are. It's more expensive than most vibrators but we consider it an investment in your sex life and relationship.
Oh yeah, it's waterproof. Do it in the shower, dirty girl.
Yayyyyy We-Vibe! Two thumbs up! From me and him.
More Stories from Sex & Relationships You Might Enjoy…
» 106 Animated Positions: How Many Have You Tried
» How to Stimulate His Hot Spot
» How to Stimulate All Her Hot Spots
» How to Give the Perfect Hand Job
» How to Orgasm Without Ejaculating
» How to Satisfy Her with a Small Penis
» How to Give Her The Best Cunnilingus
» How to be a Dominatrix for a Night